Your Partner in Pest Management
Venables Pest Management is committed to treating every pest problem with utmost care and concern.
About Venables Pest Management
Providing Quality Pest Control Solutions in Olympia & Beyond Since 2001
Venables Pest Management is a family owned and operated pest control company located in Olympia, Washington. For over 20 years, we've been protecting homes and businesses in the area with safe and effective pest solutions.
At Venables Pest Management, we're passionate about providing excellent customer service backed by knowledgeable technicians who are committed to keeping our community safe. With expertise in various types of pest removal as well as integrated pest management, our team will provide an individualized solution that works best for your needs. We take pride in delivering prompt and professional services while maintaining the highest standards of safety and environmental responsibility.
Call our team today at (360) 443-5813 or contact us online to get started with a free no-obligation estimate. We look forward to helping you keep your property free of pests!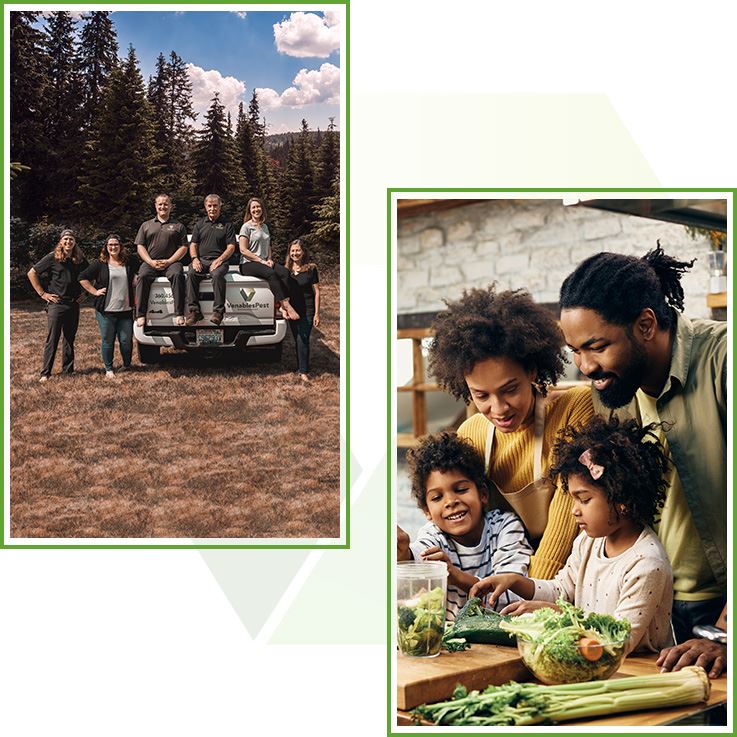 Proud Members of Our Community

Venables Pest Management was founded in 2001 by Steve Venables, an experienced pest control operator with a degree in public health information. With his expertise, Steve helped to write rules and regulations for Washington State pest associations, His vast knowledge provided him with a unique perspective on the job that enabled fast and effective results. He is committed to customer health and safety and strives to use safe, non-toxic pesticides whenever possible.
Over the years, Steve assembled a talented team of technicians who are experienced in pest control and committed to providing the highest level of service. Whether related or not, our team treats one another as a family and extends the same level of care and passion to our customers.
At Venables Pest Management, we focus on prevention first and use integrated pest management strategies to reduce the need for insecticides. Our goal is to help you protect your family or business from harmful pests while keeping them safe with our non-toxic solutions. Whether it's a residential or commercial property, our team is dedicated to offering fast, effective solutions that meet all applicable local and state regulations.
If you have a pest problem, don't hesitate to call Venables Pest Management. Our experienced team of technicians is ready to help you get fast and effective results. Contact us today!
"Venables has done a great job for us. Especially the tech, Walter. He is always very friendly, explains everything really well and does a great job."

Pat Bailey

"We've used Venables for years now and have always had great service"

George F.

"Cody from Venables is an awesome technician. Very friendly but also professional and thorough."

Joe Pinner

"Provides consistently great customer service, always punctual, friendly, and on top of keeping the critters away!"

Pam Pratt

"On time. Listened to what I said and followed through. Very polite and neat."

Mary Striggow
Check Out The Venables Team
What To Expect When You Work With Us
When it comes to pest control services, many companies come and go. But Venables Pest Management has been around for over 20 years because of our unique approach to customer service and care. We love what we do, which is helping others protect their homes and businesses from pests.
We make sure to be communicative and clear with our customers throughout the entire process, so you know what to expect. We also provide a comprehensive report after every service that includes all the details about the services provided and any recommendations for future prevention.
When you work with us, you can expect:
A commitment to customer health and safety
Fast response times
Technicians arriving in fully stocked vehicles with all the tools and equipment necessary to be successful.
Integrated pest management strategies
Non-toxic treatments whenever possible
Experienced technicians who are highly knowledgeable about the job
We understand that when it comes to pests, time is of the essence. That's why we strive to provide fast and effective results that keep you safe and your property pest-free for years to come.
Call us today by dialing (360) 443-5813 or contact us online; The Venables team looks forward to helping you protect your family and business from harmful pests throughout Olympia and the surrounding areas.